Just one of the many programs of the South Pinellas District Council. The Center of Hope opened in 2003, where the focus is on helping clients develop life-coping skills, the means to self-sufficiency and permanent housing.
Four Case Managers, two specifically assigned to the 50 veterans housed at the facility, work as a team, guiding clients toward self-determination and a better life through a broad spectrum of classes and courses that cover such subjects as anger management, money management, relapse prevention, vocational rehabilitation, and computer skills. There are also job placement referrals, peer mentoring, aftercare and outreach programs, as well as a number of recreational activities.
"Home" for at least two years, a place for a fresh start with help from a team of caring professionals, that's our Center of Hope.
Learn more at
SVdP South Pinellas District Council WebSite
Center of Hope...

View SVdP Center for Hope & Food Center in a larger map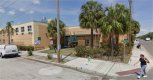 Click the picture for a larger view
Center of Hope
401 15th Street N
St Petersburg, Fl 33713
727 896 3300

SVdP South Pinellas District Council
Click SVdP Links or see the Navigation Bar for Contact Information in other districts.
The Center of Hope was once a long-vacant hospital that the South Pinellas District Council purchased and renovated in 2000 with bank loans and grants from the Veterans Administration, the State of Florida, and the City of St Petersburg.
Today it is an 88-unit, single-room occupancy (SRO) facility providing traditional low-cost housing, meals, and utilities to homeless veterans and the working poor for up to two years.