The Food Center prepares and serves hundreds of clients three nutritious, satisfying, quality meals 365 days a year averaging more than 22,500 meals a month, the equivalent of 270,000 a year. In addition, the Center, also known as the "Soup Kitchen", provides special holiday food baskets to more than 200 needy families at Thanksgiving and Christmas and regularly redeems food vouchers given to the hungry by the District's St Vincent DePaul conferences.
Food is either purchased or donated by individuals, businesses, organizations, church groups and schools.
Learn more at
SVdP South Pinellas District Council WebSite
Food Center...

View SVdP Center for Hope & Food Center in a larger map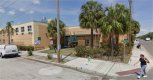 Click the picture for a larger view
Food Center
401 15th Street N
St Petersburg, Fl 33713
727 821 3446
Emergency Assistance Hot-Line
727 825 0725

SVdP South Pinellas District Council
The Food Center, a multi-purpose 13,500 square-foot haven where the hungry and homeless congregate to eat, sleep, obtain clean clothing, shower, receive counseling, medical treatment, legal advice, attend AA meetings and in a nearby trailer, store their personal belongings.