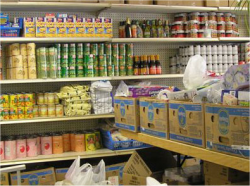 Hernando-Citrus Food Pantry
Our St Vincent de Paul Food Pantry is dedicated to serve Christís needy without regard to race, color, creed, age, gender, national origin or disability.
Funded by local Catholic Church Food Collections, USDA Food when available, Private Citizens monetary and food donations as well as proceeds from our fully volunteer operated Thrift Store, we seek to bring temporary relief and comfort to the body and spirit of our neighbors in need.
For more information contact our main office at 352 688 3331 or visit SVdP Hernando-Citrus District Website
Hillsborough County - Nebraska Ave Food Pantry
The Nebraska Ave Food Pantry accepts referrals from all religious, social service, and humanitarian organizations for people living throughout Hillsborough County. The pantry is located at 12310 N Nebraska Ave (just north of Fowler Ave.) and is open from 8:00 pm until 10:00 pm, Monday through Friday. For more information,

For more information contact our main office at 813 977 7057 or visit SVdP West Hillsborough District Website

Click SVdP Links or see the Navigation Bar for Contact Information in other districts.