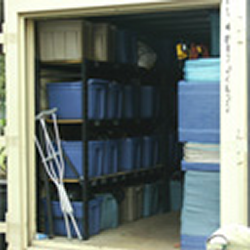 For Homeless Persons
The Homeless Persons Storage Units are open four hours a day, the unit is manned by an attendant who assigns the bins---each about four-foot-square---and tracts the in/out activity on log sheets. The date of the personís last visit is also noted. If there has been no activity for 30 days or more, the contents are removed by the City, held an additional 30 days and if still unclaimed, they are considered abandoned and discarded.
This collaborative effort has been very successful---there are rarely open bins---and those who work day jobs are grateful because without the storage unit they would again be forced to tote their belongings with them while working.
An amenity for people whose worldly possessions are so few that they can fit into a small, but safely guarded, plastic bin, thatís our Homeless Persons Storage Unit.

Learn more at
SVdP South Pinellas District Council WebSite
Click SVdP Links or see the Navigation Bar for Contact Information in other districts.